Towel Warmers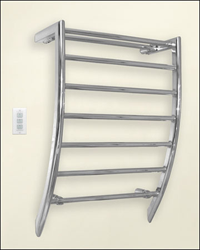 We all know the problem, you finish a nice, long, relaxing shower and reach for your towel but instead of finding a dry, warm, fresh towel you get hold of a damp, cold towel. It's not quite the comforting end to your shower experience that you were looking for and that is why towel warmers are increasingly gaining in popularity throughout North America and Europe. For not only do towel warmers add a contemporary style to any bathroom, but they are also very functional as well.
Towel Warmers, as with floor heating, are available using either hydronic or water heating solutions or electric heating solutions. Setting up the hydronic towel racks are simple enough as they can be installed into your existing hot water heating system. There are two available methods for installation of electric towel warmers, the first is to simply plug your towel warmer into the nearest available electric outlet and it will being to work. The second method is called 'Hardwired'. A hardwired installation involves physically wiring the towel warmer to your home's main electric wiring. For such a procedure it is recommended that you use a licensed electrician. For a licensed electrician, this is a fairly simple procedure.
For a great selection of towel warmers, both hydronic and electric check out these manufacturer's websites.