Bathroom Luxury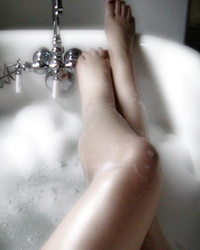 A glamorous bathroom is the ultimate indulgence in any home. You don't have to be in your bathroom 24/7 so it's the perfect space to try a more luxurious or modern look – you can be braver with your bathroom than you might be with the rest of your house.
A beautiful tub, tactile surfaces, clever lighting and opulent accessories can all help to create a gorgeous bathroom space and the good news is that an attractive bathroom will add value to your property. An unfinished or dated bathroom gives potential buyers the impression that a complete overhaul is required and that several thousand dollars will need to be allocated. So even if you have no plans to sell soon, you can be sure that remodeling your bathroom will always be worthwhile financially.
So, go forth – be brave in your bathroom. Experiment with creative tiling, sumptuous wallpapers and art work, trendy taps and smart lighting that can be dimmed – and make every morning glamorous!
So with that in mind please feel free to browse through the selection of luxury items that are available on this website. Enjoy!