Kitchen Luxury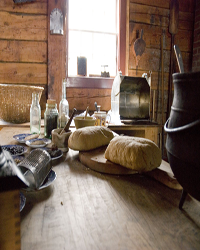 In recent years the kitchen has gone from being an enclosed box used purely for food preparation to being the focal point and social hub of the home. With the huge choice of incredible appliances, beautiful finishes and neat storage tricks, planning the perfect kitchen space has never been so important.
State of the art appliances, carefully positioned lighting, and well-chosen units can all help create a beautiful kitchen. But why not add a touch of luxury by combining stylish materials, the latest gadgets and high quality fittings with opulent wall coverings and a sumptuous floor to really give it that wow factor? Pull-out larders, extra-wide drawers, and built-in recycling bins all work well and ensure that your kitchen fully utilizes the space as well as being truly dazzling to look at.
Experts have long agreed that kitchens sell houses so rest assured that when the time comes for you to move on, a well-designed kitchen will prove to have been a shrewd investment. Why not take the plunge and browse our site for those all important luxury items.
This site is being updated all of the time, and information on items such as luxury cooking utensils, kitchen surface materials and kitchen cooktops will soon be available.