AGA Cookers
The AGA cooker is a stored-heat stove and cooker invented in 1922 by the Nobel Prize-winning Swedish physicist Dr. Gustaf Dalén (1869 - 1937), who also founded the AGA company.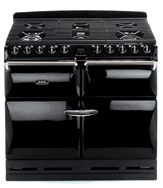 As legend would have it, appalled that his wife and their maid had to constantly tend to their old-fashioned range, Dalén set about designing a thoroughly modern cooker. Obviously its unlikely that Dalén would have been able to predict the impact on British society that it would go on to have.
The cooker was introduced to the British Isles in 1929, and its popularity in certain parts of English society (owners of medium to large country houses) led to the term "AGA Saga", referring to a genre of fiction set amongst stereotypical AGA owners.
Three main models of AGA are currently in production: two, three and four oven versions, with the four oven version wider than the others. The two oven model has three doors behind which are the burner, roasting oven and simmering oven. The newer three oven model also includes a baking oven, and the four oven version also has a warming oven and warming plate on the top. All models have two hotplates - a boiling plate and a simmering plate.
The fuel for these is kerosene, diesel, natural gas, propane gas, night storage electric or a 13 amp electric wall socket.
Also these days AGA are known for producing more than just cookers, it remains that the most popular AGAs are the heat storage cookers, more information on heat storage cookers are available here.
As yet AGA's popularity in the United Kingdom has failed to translate to quite the same extent in any other English speaking countries, however reports from back in 2004 show a definite increase in the United States in recent years.
For more information on AGAs can be found at the website on Britain's leading AGA manufacturer and supplier, AGA Rayburn