Radiant Floor Heating
There are two types of radiant heating for floors, the first being the hydronic or wet systems. Hydronic heating uses a boiler to heat up hot water and a pump to circulate the hot water around plastic pipes installed in a concrete slab. The pipes, embedded in the floor, carry heated water that conduct warmth to the surface of the floor where it broadcasts energy to your the room.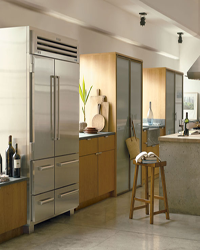 The second type is electric floor heating. Electric floor heating differs from hydronic due to the fact that it does not use water at all, instead a thin mesh laced with a heated cable is installed just beneath the floor surface. It will be electric that the rest of this article will focus on, not because one is favorable to the other, rather that the ease of the installation of the electric heating systems means that it can be viewed more clearly as a luxury addition rather than the hydronic systems which are more something to be considered during a major refurbishment or new construction. Also, unlike hydronic systems which are typically used for whole-house heating, electric systems offer greater flexibly in terms of their ability to be added only to rooms where comfort and enjoyment are considered a premium, such as bathrooms, kitchens and family rooms.
A lot of potential customers assume that electric radiant heating can only be installed under tile and stone, this is a myth. Floor heating has been developed for installation under tile, stone, wood or carpet (see our heated carpets page).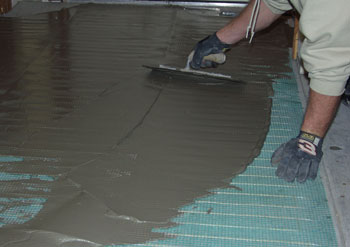 Generally installing electric floor heating is a straightforward process and can be broken down into four major steps, assuming that either you haven't yet laid your floor finish or that you've pulled it up.
The first step is to lay the rolls of electric heating mesh onto your subfloor, most retailers of electric heating should be able to supply you with a customized floor plan to follow. The second step is to apply a level of thinset over the mesh, the third step is to lay down your floor, whether it be ceramic tile, laminate, vinyl or stone. The final step, and the only one that you may require outside assistance is the wiring up of the thermostat.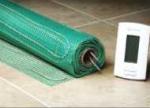 This is only a brief overview of the installation process, for more information on electric floor heating I would refer you to Warmlyyours.com. WarmlyYours offer floor heating under tile, stone and hardwood amongst others.