New Look Kitchen Appliances
There are two ways of gaining the look of new, fashionable appliances in your kitchen, the first being to treat treat your current products to a makeover. There are two main ways of achieving this; refinishing or applying new trim.
Appliance refinishing can provide a crisp, painted look and can either be done in a shop or at home in your own kitchen. Generally the on-site process, to be carried out in your own home, consists of sanding down the current, worn finish, thus removing any marks, chips or other blemishes, then ensuring that all surrounding surfaces and floors are adequately covered to protect them from stray paint. Then the surface is ready to be painted, of course wood can be easily repainted but recent times have seen the successful emergence of electrostatic refinishing systems, this system allows paint to be applied directly to metal appliances too. In an off-site refinish, the appliances will typically be taken to a paint booth equipped with an exhaust system. This lets the refinisher use a standard polyurethane or epoxy paint. Please note that in either case the finish is unlikely to be as durable as the original finish.
The second option is to apply new trim, this can be done either by a professional or, should you wish to do it yourself, new panel and trim kits are openly available from major appliance dealers throughout the country.
Brand New Appliances
The second way to gain the look of new, fashionable appliances in your kitchen is, well, to buy them. Currently we are still collecting information on such items, please feel free to contribute if you know of an item that you feel deserves to be included in this section. Thank you.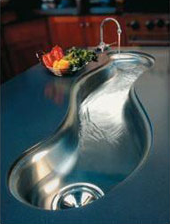 Elkay Mystic Sink
The Mystic Sink by Elkay was designed for entertainment in the kitchen. By filling the sink with ice and drinks, the area can used as a self-serve station for your guests. The sink is creatively designed so that the water flows naturally through its curvy shape. The unique sink makes a great focal point for your contemporary kitchen. Learn more