Bedroom Luxury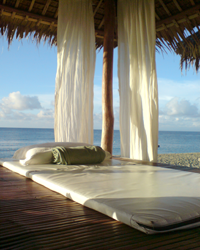 Creating a heavenly bedroom doesn't have to be a compromise between comfort and style. The best bedrooms are a seamless blend of colour, comfort, texture, and lighting to engage all the senses.
Always buy the biggest bed that the room can take, and invest in good quality, luxurious bed linen to create that boutique hotel look. Plush fabrics can give a room character and can be easily incorporated via an upholstered headboard or chaise-lounge and a range of lighting, from interior wardrobe spots to stylish bedside lamps and ceiling lights that can be dimmed will all ensure that your room is both comfortable and stylish.
For extra glamour dark colour schemes create a sensual atmosphere and tactile fabrics will intensify the luxurious feel. Gilt frames have really impact and a vintage chandelier will make any bedroom feel extra special.
This is the room that you will spend more time in than almost any other – make it your relaxed haven where you can escape from the world outside. Feel free to browse our website for those key components to make your dream bedroom a reality!