Luxury Bed Styles
Water Beds
A hard-sided waterbed consists of a water-containing mattress inside a rectangular frame of wood resting on a plywood deck that sits on a platform. Platforms may incorporate drawer systems for storage. Frames may be decorative, with elaborate headboards or tall posts.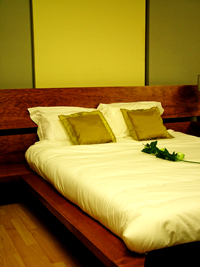 A soft-sided waterbed consists of a water-containing mattress inside of a rectangular frame of sturdy foam, zippered inside of a fabric casing, which sits on a platform. The effect is to look like a conventional bed and is designed to fit into existing bedroom furniture.
Waterbeds shape exactly to the body, this minimizes the build up of pressure, especially around the joints. It has been proven that they can remove pressure from the spine allowing the spinal muscles to fully relax, aiding in the treatment of backache.
A great advantage of having a water bed is that they can be heated, this is good for those cold nights and also to muscles relax which can result in improved blood circulation and alleviate soreness of stiff muscles and joints.
Four Poster Beds
A four poster bed is a bed with four vertical columns, one in each corner, that support a tester, or upper (usually rectangular) panel. Four poster beds date back to around the 16th century, mostly England and predominantly made from Oak. The four-poster bed with or without the tester has remained a popular style for many bedrooms because of its traditional and luxurious appearance. Many companies still specialize in manufacturing and customizing four poster bed, none more so than The Four Poster Bed Company, available on either side of the atlantic.
Thermal Massage Beds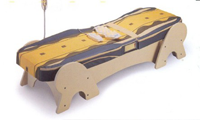 Massaging beds are becoming more and more popular in recent years, not only are they incredibly comfortable but they also have proven health benefits. Modern massage beds work predominantly by placing both heat and pressure to those points in the body that are connected to certain organs in the body. The treatment often uses helium to produce heat and may use jade massage heads to create pressure. This dual form of treatment focuses its attention on the area near and around the spine, the same pressure points that are used in acupuncture and acupressure.
The most recent Migun Thermal Massage System in actual fact claims to combine general massage, acupuncture, acupressure, heat-therapy and chiropractic inspired treatments all in one.