Duvets and Bedsheets
From Egyptian cotton to Empress silk the world of bed linens is a deep and often overwhelming one.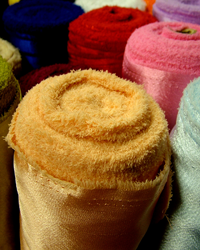 Choosing bed sheets is so important as they will, along with duvet covers and pillow cases, be touching your skin, so most people feel that it's a good idea to go for more natural fibers like linen, cotton, or blends of those. Polyester is also a common choice, mainly for the reasons that it is cheap, economical and doesn't tend to crease as easily as cotton. Polyester is also a warm fabric which can be really helpful on cold nights. The problem with polyesters however are that they tend to 'pill' over time, this means that as they are washed, fibers loosen and eventually fuzz up and form little balls over time. In addition poly blends tend to not be as comfortable and can hold onto body oils and sometimes odors, all these reasons contribute towards why they will not be mentioned again.
The best types of natural fabrics for bed linens are pure Egyptian cotton and Pima or Supima. These cottons are better than others because their fibers are longer than regular run of the mill cheaper, shorter fiber lower thread count cotton. This is important for bed linens as the longer the fibers, the stronger the thread, and then stronger yarns.. etc etc. Ultimately you'll end up with stronger fabric for your bed sheets, pillowcases and duvet covers.
Pioneer Linens is a great place to find some of the worlds most luxurious linens and bed ensembles, and Defining Elegance has some great collections from some exciting designers.