Floor Heating under Carpet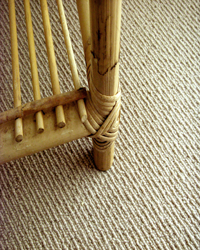 The comfort benefits of electrically heating floors are immediately obvious under tile, marble, vinyl and wood flooring, however, unknown to most is that when given the chance, radiant floor heating can work equally well under carpeting. Although carpets may not reach the low temperatures that other surfaces such as tile or stone reach, to many people having the ability to heat them can make all of the difference at the end of a long day.
It's not just the luxurious aspects of it that draws people to heated carpets, there is also the logical benefit to consider. For better or for worse carpeted floor will generally take on the natural temperature of you room, this can be a problem if you have a naturally cold room that creates chilly carpets, one options is to turn your conventional heating system on however this can be very expensive with energy costs rising to record levels.
Thats where radiant heating under carpets comes in, experience the comfort of walking barefoot through your living room, warming you through from the ground up.
The perception that floor heating isn't as effective under carpet has changed with new research done by the Carpet Foundation in conjunction with the Underfloor Heating Manufacturers Association. This showed that even high-quality carpeting with sponge rubber underlay performed well with electric floor heating.
That being said it is also important when making a decision on floor heating under carpets consideration must be given to the thermal resistance rating (R-value) of the carpet and padding. The efficiency of the heated floor system can be greatly improved by properly selecting the carpet and carpet cushion.
Most floor systems manufacturers suggest a total maximum R-value for carpet and cushion not to exceed 4.0. With heated floors, lower pile carpet is better than higher pile carpet, and the absence of cushion is preferred. Most conventional carpets are suitable for use over heated floors, but again floor heating companies will advise you to consult with the carpet manufacturer to see if the backing is suitable for long periods of low heat.
With heated floors, lower pile carpet and lower thickness cushion are better than higher pile carpet and thicker cushions. When cushion is used, it should be no thicker than 3/8".
With regards to the weight of furniture that the can be placed on top of the carpet once the heating is installed, floor heating manufacturers assure us that it can more than handle the weight of a four poster bed, a pool table or an entertainment system.
There are plenty of assumptions about heating under carpet that have been made over the years that have since been disproved - for instance it is possible to steam clean the carpet, and of course you have nothing to worry about should you spill water on it.
To find the exact R value of your carpet please download our free Carpet R value pdf. If you are interested in heating under carpets and would like more information on hows its done, or would like a free quote for your room, WarmlyYours can cater to your needs.