Wine Racks
From the connoisseur down to the average drinker how you store your wine is very important both to the eye and in fact to the taste!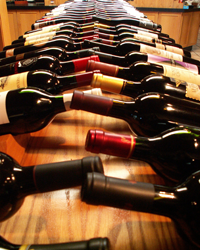 For the beginner with little or no previous experience in selecting wine racks, choosing your first can be a daunting task, there are so many aspects and considerations to take into accounts that often first timers can find it overwhelming.
The first thing that needs to be considered when viewing different types of wine racks is whether or not you want a vertical or a horizontal rack. To take that decision out of your hands it is best to avoid the vertical racks for, although it might look aesthetically pleasing and does make reading the bottle label a lot easier, often having a bottle stood upright for a prolonged length of time can cause the cork to dry out which can lead to decay and ultimately allowing air to get into the bottle and contaminate the wine, for that reason it is advisable to go with a horizontal wine rack.
The next thing you need to consider is what material you would like your wine rack to be made from. The most common materials are wood and metal, this decision is purely down to your personal preference as neither material will affect the storing of the wine in anyway. Metal racks will generally be made from wrought iron whilst wooden give more of a selection and can come in such finishes as walnut, maple, mahogany, redwood and even pine. This bring us on to the third decision - style, again this is obviously something down to the individual's tastes although popular styles include wall mounted, counter top, hanging and free standing.
The final two considerations to be aware of when selecting your first wine rack are the size of the rack and (often dependent) the price. Only you know how many bottles you will be storing and how many you will be keeping in rotation. The price of wine racks can vary widely from $5 right up to many thousands, exactly what you pay is, once more, down to the individual.