Rug Warmers
Often in a basement, due to it's position in the house, the floor will be particularly cold if floor heating is not an option then there is no better way to add some warmth to the room than under rug heaters.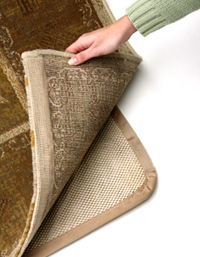 Under area rug warmers utilize custom designed warming cables which deliver radiant warmth evenly across the full surface area of the system. Designed to fit discreetly beneath any room's area rug, it adds extra warmth and comfort without unsightly portable heaters. Most measure less than ¼" thick allowing them to be concealed beneath area rugs without being noticed.
Area rug heaters are easy to operate as they come equipped with a lead and plug so the only installation you need to do is to plug it into the nearest electrical output. It is an attractive solution for warming cold spots in any room of the home or office. You simply place the heating mat under your area rug and plug it in.
For more information on under area rug heaters, and how they work visit;